The Hidden Blueprint: How to Engineer Your Business for Success | Alicia Butler Pierre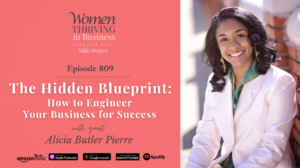 "Have you ever wished for a "recipe" for business success? Imagine the efficiency and effectiveness you could achieve if your organization's processes were documented and communicated. Imagine what could be possible if everyone on your team understood what work needed to be accomplished and how to do it.
But how do we document processes and establish consistency that benefits our businesses?
This week, we're joined by Alicia Butler Pierre, the Founder & CEO of Equilibria, Inc., and the bestselling author of Behind the Façade—the world's first published book on business infrastructure. Alicia is an evangelist about the importance of operations and infrastructure management for companies of all sizes and types.
To achieve business success, it's essential to clearly identify every individual activity involved in delivering your product or service—from initial client interaction to final delivery."
Source: https://womenthrivinginbusiness.buzzsprout.com/