The Eccentric CEO Podcast with Aman Agarwal
When Aman Y. Agarwal invited me to be the first guest on his new podcast, The Eccentric CEO, I jumped at the chance! I was honored because, as a technologist, Aman recognizes the value of my business infrastructure work and he offered his platform for me to talk about the next chapter of Equilibria, Inc.
I'll be honest – learning how to navigate the tech world has been both scary and exciting. My biggest hurdle is the fact that I'm a scientific engineer, not a programmer or coder.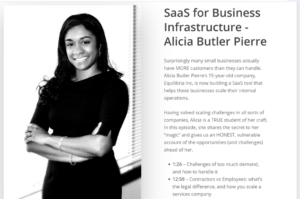 So I'm learning how to become more technically fluent so that I can make better-informed decisions as we go full throttle with software development.
This is what we discussed on Aman's podcast. I hope you find it inspiring and practical, especially if you are also a non-technical leader.
And if you want to increase your technical fluency, start with Aman's article on Medium.com: https://lnkd.in/dJawqwW
___________________________
Source: https://sanpram.com/2021/01/22/episode-2/