STRENGTHEN BUSINESS INFRASTRUCTURE: How to Cure Back-Office Blues and Achieve Smooth Operations with Business Infrastructure Webinar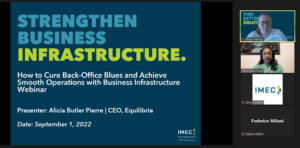 "Business infrastructure is an operating system for linking an organization's people, processes, and technologies to achieve scale that is profitable, repeatable and sustainable. This interactive webinar introduces a proven framework for creating business infrastructure. Level-up your operational capacity while building effective teams and implementing processes that get results.
By the end of the session, you will:
Identify some of the tasks, departments, and people that make up your company using simple tools like stick figures and index cards.
Discover an efficient way to identify and document critical back-office processes.
Learn about low-cost technology to store intellectual property assets."
PRESENTER: Alicia Butler Pierre | CEO, Equilibria

Alicia is on a quest to revolutionize the way small businesses operate. She does that by speaking, coaching, writing, lecturing, and podcasting. She is the Founder & CEO of Equilibria, Inc. and the bestselling author of Behind the Façade, the world's first published book on business infrastructure. She hosts the weekly Business Infrastructure podcast, which ranks in the world's top 2%. She's an adjunct instructor of Lean Principles at Purdue University and Operations Management at Nichols College. A chemical engineer turned entrepreneur, she's advised, designed, and optimized processes for organizations including Coca-Cola, Shell Oil, The Library of Congress, and The Home Depot.
Source: https://www.imec.org/event/strengthen-business-infrastructure-how-to-cure-back-office-blues-and-achieve-smooth-operations-with-business-infrastructure-webinar-09012022/