Leave It Better Than You Found It with Alicia Butler Pierre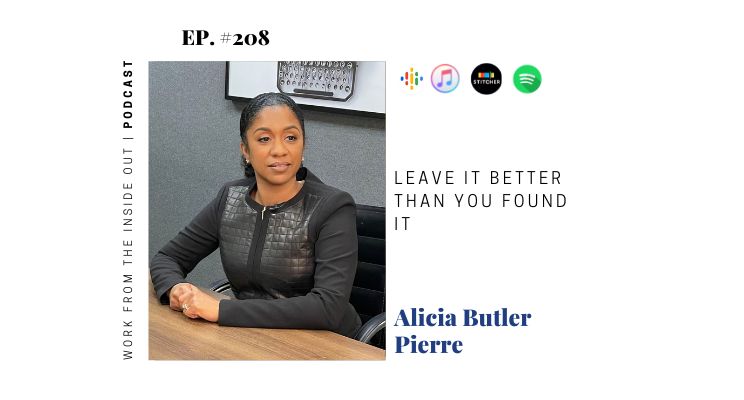 " Alicia Butler Pierre is the CEO of Equilibria, Inc, an operations management firm she founded 17 years ago. She designs scale-ready business infrastructures for fast-growing small businesses. At Equilibria, she invented the KasennuTM System for business infrastructure and software by the same name. Alicia has successfully applied this system in over 30 different industries. She is also an adjunct instructor of lean principles at Purdue University and the author of Behind the Facade, How to Structure Company Operations for Sustainable Success.
A chemical engineer turned entrepreneur, Alicia has advised, designed, and optimized processes for enterprises, including Shell Oil, Coca-Cola, and Home Depot. She hosts the weekly Business Infrastructure: Curing Back Office Blues podcast, which ranks in the top 2% of the world with listeners in 60 countries.
Alicia attended private Catholic school through 8th grade, where there was a methodical, process-oriented cadence to everything. Her father was in the Air Force, and her mother was a health inspector. She sees how these foundations informed her work with clients today. Interestingly, when Alicia entered high school, she planned to become a journalist. She loved English, the arts, and writing. In 11th grade, she took chemistry, discovering she loved it so much that she opted to take the advanced course the next year and studied chemical engineering in college.
In this week's Work From The Inside Out podcast, learn more about Alicia's journey:
After many years in technical roles as a chemical engineer at Monsanto, Alicia was encouraged (more than once) to pursue the managerial track as she was recognized for her outstanding communication skills.
Alicia's online content has over a million views and downloads across various platforms committed to doing the right things in the right way. Her mantra is "to leave it better than you found it."
Source: https://www.tammygoolerloeb.com/blog/leave-it-better-than-you-found-it